Introduction
The world of cryptocurrency and decentralized finance (DeFi) is evolving rapidly, and Chainge Finance is at the forefront of this transformation. This innovative DeFi platform is tailored to cater to cryptocurrency enthusiasts and traders, offering a wide array of financial services that address critical challenges in the industry. In this overview, we'll explore Chainge's diverse features and the advantages it holds over traditional centralized exchanges (CEXs).
Chainge's Diverse Financial Services
DEX Aggregator for Fast Trading
Chainge operates as a decentralized exchange aggregator, providing users with a lightning-fast trading experience across multiple platforms. It employs a smart router to optimize transactions across various blockchains, effectively eliminating price impact. What sets Chainge apart is its user-friendly, KYC-free three-step trading process, making it accessible to everyone. Additionally, it is compatible with various blockchains and decentralized exchanges thanks to its innovative DCRM technology.
Cross-Chain Roaming for Seamless Asset Management
Managing assets across different blockchain networks has never been easier, thanks to Chainge. It supports multiple cross-chain operations, enabling seamless asset swaps regardless of the blockchain in use. This feature opens up new possibilities for traders and investors to diversify their holdings with ease.
Self-Custodial Wallet for Secure Crypto Storage
Chainge provides a versatile wallet with both beginner and expert modes. The beginner mode simplifies crypto management, making it perfect for newcomers, while the expert mode offers complete decentralization and asset control for seasoned users. Security and control are paramount, and Chainge ensures that your digital assets are in safe hands.
Decentralized Staking for Income Generation
Users can engage in decentralized staking on Chainge, earning instant profits and rewards. What's even better is that this feature retains asset usability for future activities, such as options and futures trading. It's a win-win for users looking to grow their assets.
Futures & Options DEX for Risk Management
Chainge introduces a decentralized platform for futures and options trading, enabling users to mitigate risk and optimize profits. With support for seamless swapping between time-framed and spot assets, traders can diversify their strategies and explore new possibilities.
Decentralized Escrow for Transaction Fairness
For safe digital asset buying, selling, and swapping, Chainge introduces decentralized escrow services. This ensures that transactions are conducted fairly, making the platform a trusted destination for all your digital asset needs.
Challenges in the De-Fi Space
Before we delve further into Chainge's vision and key attributes, it's essential to understand the challenges that have plagued the DeFi space:
Security concerns have put users at risk of hacks.
Low liquidity on many DeFi platforms limits trading opportunities.
High transaction fees hinder accessibility.
Cumbersome navigation and trading across various DeFi platforms frustrate users.
Transferring assets between different DeFi platforms remains challenging.
The absence of reliable custodial solutions increases user risk.

Chainge's Vision
Chainge has a clear vision for the future of DeFi:
It aims to become the world's leading decentralized exchange (DEX).
It strives to promote DeFi interoperability and liquidity.
Chainge seeks to streamline and enhance the exchange of digital assets.
Key Attributes of Chainge
Here are the key attributes that set Chainge apart:
Chainge is making waves in the blockchain world by putting users in control of their assets with a permissionless architecture that doesn't require KYC. Privacy is a top priority, backed by homomorphic encryption algorithms. If you're looking for a solid privacy project here you go.
Users also benefit from built-in rewards and incentives, creating an engaging environment for traders and investors. Security is paramount, ensuring safe digital asset management and trading.
Fractional ownership, data immutability through blockchain technology, and incentivized validators further enhance the platform's integrity. Chainge offers a comprehensive solution for secure trading and global payments, setting a new standard in the crypto space.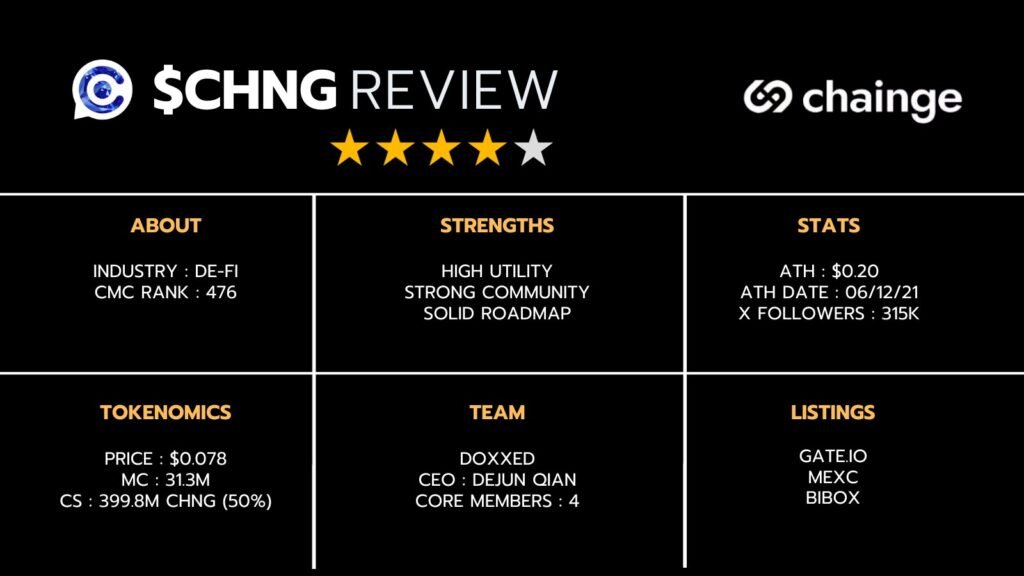 Team and Tokenomics
Chainge boasts an experienced team with a strong track record in the cryptocurrency and blockchain industry. The founder, Dejun Qian, has been a Co-founder of Anyswap, Fusion, Vechain, and QTUM. Chainge had a fair launch with no ICO and no team tokens, reflecting a commitment to fairness and community support.
Tokenomics:
Price: $0.086
Market Cap : $33 Million
Circulating Supply: 399,854,061 CHNG
Total Supply: 716,725,414 CHNG
Maximum Supply: 814,670,050 CHNG

Conclusion
Chainge is a groundbreaking DeFi platform that offers users unprecedented control and access to a wide range of financial services. With its strong focus on security, efficiency, and user-friendliness, Chainge is poised to revolutionize how individuals manage and leverage their financial resources in the DeFi ecosystem. For more info on Chainge Finance you can check out there website here. As the DeFi industry continues to evolve, Chainge remains committed to delivering innovative services, promising a truly decentralized financial haven for its users. Stay tuned for more exciting developments from Chainge as it reshapes the future of decentralized finance.